Kairos (18 - 40 The Appointed Time)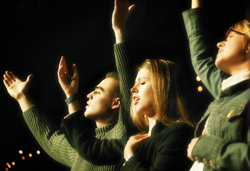 ----------------------------------
KAIROS – "set or proper time." Whenever the Greek word kairos appears in the New Testament, it refers to a chosen or appointed time when God acts. The Bible is clear that when we gather in the name of the Lord, He is in the midst. Knowing this we should expect that, every time we meet for Christian fellowship, we can expect Him to be a part of the gathering. He's not just sitting in the background listening idly, either. He's involved and moving in the lives of each person there, making His presence felt in the conversations and in the hearts and minds of everyone there. Kairos is the name of our Bible study group geared towards the young adult crowd (ages 18-40).
At Kairos we aim to provide a relaxed, friendly atmosphere that centers on Christ-based teaching, while simultaneously training and equipping the next generation of Christian leaders. Each meeting is an opportunity for Him to act, to provide a "kairos moment" for someone in attendance.

For more information please contact Frank Donato or call the church office for more information (631) 289-3483.
"Let us not become weary in doing good, for at the proper time [kairos] we will reap a harvest if we do not give up." Galatians 6:9