Children's Ministry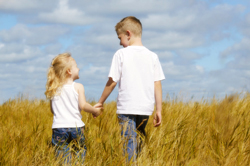 In Children Ministry, our purpose and mission is to minister the word of God to children and teach them about the Father, the Son and the Holy Spirit in a way that will help them come to an understanding that God has a plan for their lives that includes a personal relationship with Him. We believe that, through the learning and understanding of the Bible, the children will be able to see God's truth not only as part of their lives but also as a way of life. "How can a young man cleanse his way? By taking heed according to your word" - Psalm 119:9
With this mission in mind, we offer a number of programs that promote biblical learning and application as well as service in church:
Nursery Services are offered to parents of toddlers. Children, one to three years old, are received in a nurturing and safe environment in which they can play and listen to biblical stories and music while their parents are participating of the church's Sunday program.
Pre K and Kindergarten Class is offered to children in preschool and kindergarten, ages four through five. This class utilizes a curriculum designed for early biblical instruction that emphasizes Creation, stories from the Old and New Testaments, the life of Christ and the early Christians.
Elementary and Middle School Classes are offered to children in two separate groups: 1st-3rd grade and 4th-6th grade. Lessons for these age groups are selected and design with the purpose of giving children a foundation on God's word that will serve as a guide for their personal lives, to apply the teachings of the bible to their daily living and to develop a personal relationship with the Lord.
First Communion Preparation Class is designed for children seven years old and older to develop an understanding of what Communion represents in the Christian church as well as its importance and background in biblical history. This class consists of five special lessons offered once a year (between April and June) and culminates with a special service in church for a First Communion celebration.
Vacation Bible School (VBS) is a one-week program geared to biblical instruction trough fun activities and lessons around a specific theme. Besides being instructed in the word of God, children participate in activities making crafts, playing games, singing worship songs, and preparing their own snacks.
Holiday Parties are special events to celebrate Thanksgiving, Christmas and Easter. Children of all age groups participate together in a program that includes worship, lesson, crafts, games and snacks.
Other Special Programs: Children's Choir (for special activities) and Christmas Play
One of the most precious gifts the Heavenly Father has given us is the children that He has placed in our trust. The Children's Ministry is a place where each child is loved, nurtured and taught the truths and promises of the scripture. It is important that our children know we have a loving Father in heaven, a helper in the Holy Spirit and a Savior in the Lord Jesus Christ.
"For the word of God is alive and active. Sharper than any double-edge sword, it penetrates even in dividing soul and spirit, joints and marrow; it judges the thoughts and attitudes of the heart." - Hebrew 4:12 NIV
For more information, please contact: Kelley Carpenter